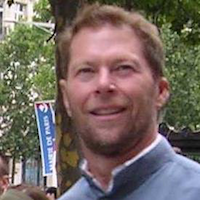 The Heart of Agile simplifies your reminders so that you can better focus on achieving your results.

Dr. Alistair Cockburn, co-author of the Agile Manifesto, was voted into the "150 All-time IT Heroes" in 2007. He is author of the award winning books "Agile Software Development: The Cooperative Game" and "Writing Effective Use Cases," co-founder of the International Consortium for Agile, and creator of the Heart of Agile concept.
With over 25 years of experience, Alistair's specialities include organizational psychology, project management, agile methodologies, requirements gathering and object-oriented design. Student in his courses consistently give him high marks for interesting courses, his clients appreciate his useful insights.
Agile having become overly decorated, it was time to simplify back to the essence of agile, to the core elements that matter.
The Heart of Agile opens the doors wider so that more people benefit, but also so they can invent and find their own ways of working, ways that help them in their specific situations.
Upcoming Events
Events Search and Views Navigation
There were no results found.