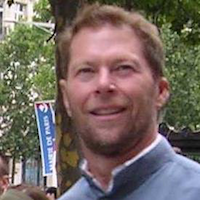 The Heart of Agile simplifies your reminders so that you can better focus on achieving your results.

Dr. Alistair Cockburn, co-author of the Agile Manifesto, was voted into the "150 All-time IT Heroes" in 2007. He is author of the award winning books "Agile Software Development: The Cooperative Game" and "Writing Effective Use Cases," co-founder of the International Consortium for Agile, and creator of the Heart of Agile concept.
With over 25 years of experience, Alistair's specialities include organizational psychology, project management, agile methodologies, requirements gathering and object-oriented design. Student in his courses consistently give him high marks for interesting courses, his clients appreciate his useful insights.
Agile having become overly decorated, it was time to simplify back to the essence of agile, to the core elements that matter.
The Heart of Agile opens the doors wider so that more people benefit, but also so they can invent and find their own ways of working, ways that help them in their specific situations.
Past Events
Events Search and Views Navigation
September 2020
October 2020
Hey There Heart of Agile Scotland Community,
Whilst missing you all, we've been mega busy, like honey bees in the background lining up the next super duper instalment for October so here it is. This is set to be a humdinger of a session as we have not one but two fab topics for you to get in to.
First off we have the most awesome Scott Howard taking us through "Stop Banging Your Fist to Make the Work Go Faster"
How Not to Speed up the Work - 20 years of banging
the table
- A look at the complexity belief and asking the
question why this is often forgotten?
- Some suggestions on how to hold POs / Leadership
to account for behaviour that hinder rather than
smooth the flow of self organising teams' delivery.
- Sharing of scrum master tips when faced with
business pressure to take responsibility for a delivery
that lies with the team.
Sounds epic! Can't wait to hear what Scott has to share on this one.
Then just when you thought we could not top that, we have only gone and lined up a look at Business Agility at Scale with the superb Evelyn Lekhtman. Take a look at the below to whet the learning appetite:
- During the last 18 months I started to investigate Business Agility at Scale, I wanted to know if the concept was even achievable. Lucky I was given the opportunity to participate and witness a successful Business Agility at Scale transformation. Also, I reviewed findings from the Business Agility Institute and performed 121 interviews with C-Level Leaders as well as Agile Leaders within the UK and beyond to understand why some businesses are succeeding and why others are failing.
- During the session I will share my findings, user cases, and techniques to answer the question, "Is Business Agility at Scale Doable & How Can You Help on the Journey?"
Agility at scale at Enterprise level, sounds both brilliant and intriguing doesn't it?
Sign up now and join me, Jak, Robb, Kathy, Shane, Scott, and Luke on the best Thursday October has to offer doing some socially distant learning in a group of more than 6 that is legal! Bring your beer and or wine, sit back and get involved.
Look forward to seeing you all there. Tell your friends, this one should be huge!
Find out more »
November 2020
+ Export Events