You want to change the world.
Whatever your initiative, it involves changing the world just a little bit. The world, however, is remarkably resistant to interventions. The best ideas fail because of misunderstandings of how the world will react, or because of errors in implementation.
These four words help you do it.
The Heart of Agile simplifies two decades of practice into four critical imperatives that amplify your effectiveness:
closely with others to generate and develop better starting ideas. Communicate often to smooth transitions.

small probes initially to learn how the world really works. Expand deliveries as you learn to predict and influence outcomes.
periodically, along the way. Think about what you've learned in your collaboration and from your deliveries.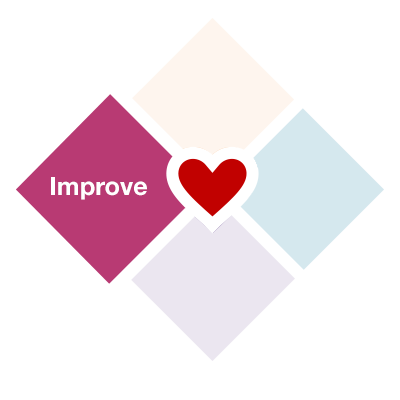 the direction of your ideas, their technical implementation, and your internal processes.
The four words help us to focus our energies on critical actions.
At the same time, this simplification opens the door to many new and interesting ways of implementing each one of them.
Agile has become overly decorated. Let's scrape away those decorations for a minute, and get back to the heart of agile.

- Dr. Alistair Cockburn
Agile Manifesto co-author, and
Heart of Agile founder


This is not a method.
It's a community of ideas.
The community forming around the Heart of Agile is what is interesting these days. People exploring better ways to collaborate, to communicate, to probe, to learn, to reflect, and to have more fun at the same time as having more impact.